I have mentioned it before and I will mention it again with only a tiny ounce of shame (and when I say tiny, it is pretty minuscule) but I love romance novels. The trashier the better!! They allow me to escape into the make believe world of someone loving me and I can get the warm mushy feeling on my insides without actually having to interact with a real person. Perfect. However, while they are great, they are about as far from reality as you can get,
If you have ever read a romance novel you will know that they follow a tried and true formula, boy meets girl, boy has a large character flaw, girl loves him anyway, the kiss, they make wild passionate love, they have a fight that breaks them up and then he realises that he cant live without her, they make some more wild passionate love and live happily ever after. Sounds totally realistic doesn't it? Well maybe not, so let me tackle these differences head on, here is the great division between romance and reality.
Romance
Kerry looked over in his direction, he stood a head taller than anyone else in the crowd, his shoulders broad in the clearly expensively tailored suit, He had money, that was clear but he seemed to play it down. His eyes were a striking shade of Blue and she could see even from the distance that they held secrets that she would love to Unlock. She had to know him, who was this mystery man and what is his story?
Reality
Kerry looked with boredom around the crowded bar trying to find someone that caught her eye. Why were all the men in Melbourne short? At a modest 5'10 she was struggling to find a man that measured up. Standing in the corner spilling beer over himself she saw him, 6 foot 5 and dressed in a black Metallica tshirt and Vans. He was raking his eyes down all the women in his vicinity in a way that could only be described as lecherous. His eyes were blood shot and glazed and she wasn't sure if he could do more than grunt but she had to know him anyway. Who was this man and could he string a sentence together?
Romance
She stood on her tip toes and looked deeply into his azure eyes as her hands lovingly slid up his torso to entangle themselves into his beard. "Kiss me" she sighed, her breath catching in her throat. With a slight smile he slid his hand into her hair and drew her face towards him slowly. He wanted to savour every moment of their first embrace. He lowered his face and claimed her lips with his, at first softly and then with a feverish intensity that neither of them had experiences before.
Reality
Kerry reached for his hand and pulled him towards her, she wanted to kiss him, she was fixating on his mouth, she was sure that he wanted to kiss her as well. The air was alive with nervous energy as their eyes locked, she lifter her arms to loop them around his neck as his hand tangled into her hair and pulled her face to his. It was all clumsy and teeth clashing and a bit too much tongue but she had certainly experienced worse. They say you need to kiss a few frogs before you find your prince.
Romance
He stood moodily with his back towards her "I don't want to talk about my family" he said, she walked to him and wound her arms around his chiselled abs as a sign of support. He let out a great sign, turned in her arms and kissed her forehead. He spoke softly so Kerry had to strain to hear what he said "both my parents are dead, they were killed in a car crash when I was 8, my grand parents were too old to look after me and I was bounced from one foster home to the next". She could feel his sadness radiating through her and she couldn't help the lone tear that slipped down her cheek. So this was the reason for his cold nature, he didn't know the love of a family. She made a pact to herself that she would be his family and lavish him for the years of loving that he missed.
Reality
"We have to go to my parents house for dinner tonight" he said absent mindedly as he smashed the buttons on the play station control. Kerry was instantly filled with dread, his mother was the typical Mother in Law, no one was good enough for her son and she made it perfectly clear that she wished that Kerry was only a temporary family member. She carried that with every time they went to visit them in their modest family home in the suburbs with the two car garage, shag pile carpet and that annoying little dog that tried to bite her every time she visited. She put a silent prayer to the heavens that his demanding sister wasn't able to attend dinner tonight, one of his family members hating her was enough for an evening.
Romance
He placed his hand behind her head as he gently laid him down upon sheets as white as fresh fallen snow. He looked lovingly over her body taking in every inch of the tanned skin that lay bare before him. As he slid his hands down her body she gasped, her core starting to pulse. He slid her red lace panties over her shapely legs and claimed her sex in his mouth in one smooth movement. This was the moment of her undoing. As the waves washed over her body she felt him bury himself to his hilt and start rocking in a frantic rhythm. With each trust she felt her climax building, he rasped into her ear "Look at me Kerry, I need to see you", she opened her eyes and got lost in his clear blue gaze as they tumbled together over the cliff of orgasm
Reality
She clumsily put her keys into the lock as he stood behind her pawing at her backside, "hurry" his beer drenched breath said into her ear. When the door was open he claimed her mouth with his while leading her towards the bedroom, he pushed her on to the bed as he roughly ripped off her pants and jumped on top of her. She looked up at his flaccid penis that was waving like a pendulum in front of her face, "Maybe if you put it in your mouth it will get excited". Obligingly she did as she was told as she took his wrinkly phallus into her mouth and flicked her tongue along the tip. With a great sign he pulled away and laid down next to her muttering under his breath "just don't worry about it, its not going to work, you are rubbish". She lay in a state of sadness as she heard his breathing change as he drifted off to sleep. The tears slowly rolled down her cheek as she wondered why he didn't find her attractive and what she had done wrong,
Romance
He could feel his anger rising, who was she to tell him what to do? He didn't care for her opinion, he knew better and she should know better as well. Kerry looked at him in desperation as he turned on his heel and stormed off into the night. "Come Back, I'm sorry" she sobbed as he slid into his Black sports car and tore off into the darkness. He was gone, she knew he wouldn't come back, she could feel the black pit of despair opening up inside her, how would she ever put herself back together?
Reality
Kerry lifted the lid of the washing machine and a wave of fury washed over her, TISSUES!!!! Fucking tissues!!! He had assured her that he had checked his pockets, she had asked him three times and each time he had promised her. She was sick of being his maid and his mother. With a gigantic hmppfff she pulled the washing from the machine, stormed into the lounge room and threw the wet, soggy, tissue covered clothes over his head, "I'm going out" she barked as she grabbed her keys and slammed the door behind her.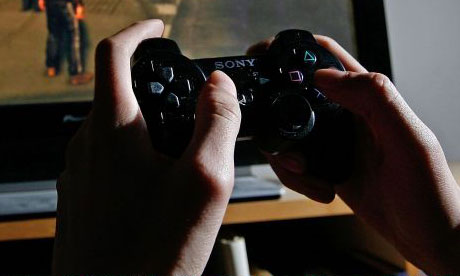 Romance
He had buried himself in his work, he needed to close this deal. So why did his mind keep drifting back to her, His beautiful Kerry. He could only imagine the pain she was feeling at how he had abandoned her. What had he done? He walked out on the only women that he had ever loved. He cleared his throat in the middle of the meeting and said "I'm sorry gentleman, we will need to reschedule" and without a backwards glance he got up and walked out of the board room. He had to fix this and there was only one way to do it, he would stop by Tiffany, drive to her house and not leave until she agreed to make him the happiest man in the world.
Reality
It was getting dark and Kerry was getting tired, it was time to head home and apologise to him for her outburst, even if it was warranted and he did deserve it. She pulled into the drive way, opened the door and saw him sitting on the couch where she had left him. "Sorry" she muttered as she walked past him to get his dinner ready.
Now I have debunked some of those myths about what makes a good romance novel and what actually happens in real life I feel better, its like I am letting the world know that yes, I know that its not real, but god damn it I am still going to enjoy them. There needs to be some filthy sex in my life. Let he who is without love cast the first stone and to the rest of you, remember "those who live in Glass Houses should not eat asparagus"